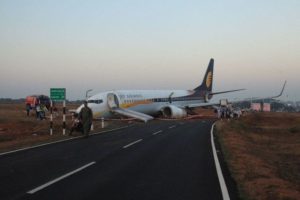 Photo Credit: Aviation Herald
In December 2018 IALPG settled a case for a family that was injured in the Jet Airways 737 runway overrun accident (flight 9W2374) on the 27th of December 2016 in Goa, India. The family were forced to evacuate after the takeoff roll did not proceed as expected due to failures of pre-takeoff briefings and settings (as reported in the Indian DGCA official accident investigation report).
These problems caused the aircraft to drift off the right side of the runway onto unpaved surface, hitting PAPI lights and a vertical pillar which caused the plane to shake badly. When the aircraft finally came to a stop all passengers were evacuated.
Emergency services arrived soon after the evacuation. Among those included an Australian based family comprised of parents and two children who later approached IALPG for assistance with their claims for compensation for the shocking event. Not surprisingly, the claims involved a complex series of jurisdictional issues in international air law which required the advice and assistance of foreign counsel as well as detailed study.
IALPG were able to help the family resolve their various (non-negligence) international aviation liability claims with the airline. This settlement will assist the family to move forward from the accident and the ripples it continues to leave in their lives, without the need for expensive and lengthy aviation litigation in Australia or another jurisdiction.